Welcome to our ASPLUND Collection 2022 preview during the new design event in Stockholm. Showing our coming collection with news and special projects by designers like Broberg & Ridderstråle, Tinka Luiga and Moa Sjöberg. We will also curate a special exhibition in our showroom by ceramist Lisa Hellrup.
Stockholm Creative Edition seeks to elevate and promote the strengths and creativity of the Swedish design and craft industry – within and outside Sweden with renewed pride and confidence. This context makes it the ultimate arena for ASPLUND Collection to reveal what has been happening behind the scenes for some time. In 2021 ASPLUND became a member of the Gustav III Committee and Eccia, which even more establishes ASPLUND as a premium brand. Once a small gallery exhibiting furniture as objects of fine art, ASPLUND is now an internationally acclaimed design establishment significantly contributing to the idea of contemporary Swedish design. The first news of 2022 is no exception.
"We are very happy to be a part of this new format that brings together the different players of our industry yet welcomes the public. I believe that showing what the Swedish furniture and design companies stand for in a new arena where we meet and bring all sorts of perspectives and experiences to the table is something that will empower the Swedish design industry"
– Sandra Adrian Asplund, Creative Director at ASPLUND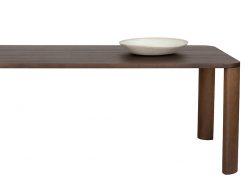 With new collaborations ASPLUND Collection proudly presents a range of new designs that are both strong solitaires and excellent complements to the existing line of products. Dining table MOCI, by the young and very promising designer Moa Sjöberg has evolved from her degree project at Carl Malmsten. In a trusting collaboration between the designer and the ASPLUND team, a coffee table evolved into a generous dining table, keeping its subtle minimalism and Japanese esthetics.
"It's been a true pleasure to take my design into production together with ASPLUND. Their skill, experience and sound philosophy enabled us to bring a product to life that I am extremely proud of. From the design process until the very last part of manufacturing, ASPLUND's profound know-how and sustainable credo has been an inspiration as well as a guiding star."
– Moa Sjöberg, designer MOCI dining table.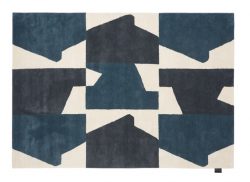 Tinka Luiga's carpet ALLY comes with a lot of contemporary graphic lure. What also comes to mind is Gio Ponti's Mediterranean tiled floors. Tinka found inspiration from her graphic work in fashion where she uses fabrics and textures to build new patterns.
"My designs are usually dynamic and repetitive, like a rhythm. I think that's why it speaks to us. When I was working on ALLY, I was drawn to the duality of contrast and interplay and I wanted to see how the textures, colors and shapes could interact and affect one another."
– Tinka Luiga, designer ALLY carpet.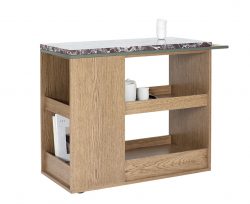 Broberg & Ridderstråle are extra relevant this year, presenting a new piece and celebrating an anniversary for a modern classic. REMY, the new mobile kitchen cabinet / kitchen trolley excites with the same diversity and elegance that we have come to associate with these designers. And the table TATI, celebrating ten years, shows how something that is created with love and enthusiasm receives the care that is needed for its survival.
"Our goal with TATI was to create a design that was simple yet versatile and would stand the test of time. A decade later we can, together with the producer ASPLUND, proudly claim to have succeeded. This is extremely rewarding for a designer. It is also a pleasure to evolve this collaboration and we are delighted to present our new product REMY together."
– Johan Ridderstråle & Mats Broberg, designers REMY and TATI.
All of the new designs together with a ceramics exhibition by Lisa Hellrup will be presented during the entire week of Stockholm Creative Edition at the ASPLUND showroom/store at Sibyllegatan 31 in Stockholm.